Novi Vinodolski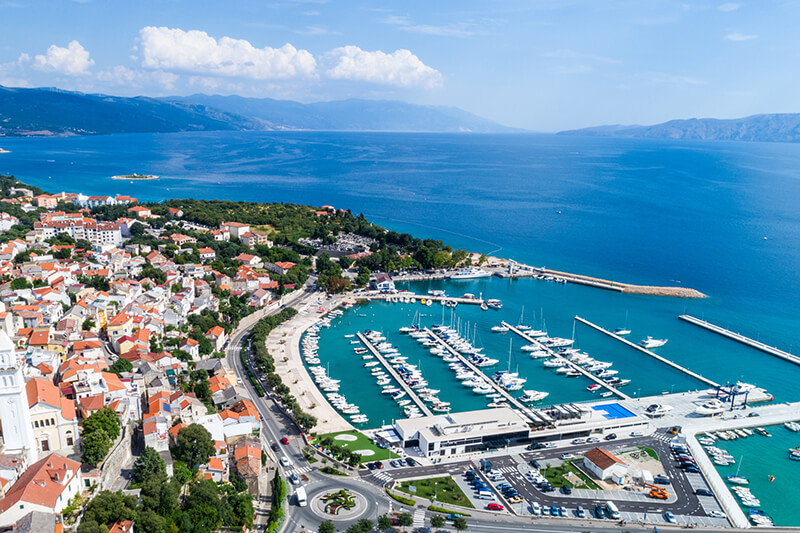 Novi Vinodolski is situated 9 kilometers from Crikvenica and definitely attracts a lot of visitors who travel on the main road towards the south of Croatia. Ideal mix of history, culture, sea and hospitality will easily impress any and every guest. Together with its location - between the green hills and crystal blue sea, and along the Vinodol valley - it is a real treat for all nature lovers and fans of cycling and walking.
Novi Vinodolski is the origin of one of the most important Glagolitic legal documents for Croatian people and European Middle Ages - Vinodolski zakon (The Vinodol Law) from the 13th century. Even though the original document is being kept in Zagreb, Novi Vinodolski offers many other historical attractions. For example, Frankopan castle, Roman fortification Lopsica, a very interesting little island called San Marino with a church and inscription from 3rd/4th century and many other sacral monuments. All these sights can be seen from above if you climb to one (or all) of 6 lookout points overlooking Novi Vinodolski.
After a strenuous climb, you can find relief on the main city beach or some of the nearby coves, and charge your batteries in numerous local restaurants and taverns. For some evening fun, there are fishermen's nights, music or literary evenings, folklore events and sports tournaments. And as a special treat, make sure to visit the summer carnival in Novi Vinodolski. Once you witness it, you'll be back for more...